Best Deals of the Day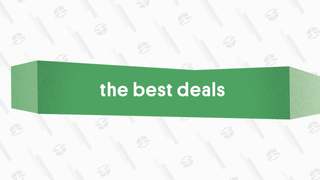 Best Deals of the Day
The best deals from around the web, updated daily.
A rare Apple Watch Series 5 discount, a pack of stemless wine glasses, a Prospera shiatsu foot massager, a $10 copy of Gears 5, a TrackR Pixel 3-pack, and a Calico Critters set Gold Box lead Wednesday's best deals.
Bookmark Kinja Deals and follow us on Twitter to never miss a deal!
---
Promoted Deal: 65% off Basic Prescription Lens Frames* | GlassesUSA | Promo code KINJA65
Now that we're at home all the time, slowly losing our minds, it's crucial, now than ever, that we start taking our vision seriously. I mean, without the right pair of glasses, how are you going to finally binge-watch the entirety of The Sopranos over the next few weeks—without overworking your retinas? How are you going to comfortably see every bright sky blue-tinged pixel of your island in Animal Crossing: New Horizons?
You're going to need a fresh pair of prescription frames for 65% off, and we're going to give that to you, courtesy of GlassesUSA. Right now. Take a moment. Find your next pair of glasses, look at the price, and slash that by two thirds. Now check out and enter the promo code KINJA65, and add blue light blocking lenses while you're at it, for 50% less with the code BLUE50. Whether you're staring at Good Screen or Bad Screen, your eyes will thank you for the added layer of protection. You don't necessarily even need a prescription.
To further sweeten the deal, GlassesUSA is giving Kinja Deals readers a 25% discount on designer brands including Ray-Ban, Oakley, Muse x Hilary Duff, and more. Just drop the promo code EXCLUSIVE25 in at checkout and watch the numbers shrink. No matter your standards, you're bound to find a new pair of eyes that suit you well. If not, there's a 100% money-back guarantee on ALL GlassesUSA orders. Before you check out with a fresh pair of frames, however, I do recommend uploading a photo of yourself and trying them on your virtual face—a real thing you can on this website.
*Premium- and Sale-tagged frames excluded.
Named the best smartwatch by our sister site Gizmodo, the Apple Watch Series 5 improved on its predecessor by leaps and bounds. It may sound like a contradiction to say a smartwatch's battery life was extended at the same time it was treated to an always-on display, and yet the latest Apple Watch pulls off both feats with ease. Over at Amazon, the GPS-only models are $100 off today—no matter which version you pick—so whether you need a 40mm or larger 44mm face; a Space Gray, Gold, or Silver aluminum finish, you'll be pleased with the savings.
In her review, Victoria Song wrote of the Apple Watch Series 5:
The Apple Watch is hands-down the best smartwatch out there. There, I said it. It's a boring conclusion that is nevertheless the cold, hard truth. You can prefer a round face, or a different operating system. You can scream about better battery life and third-party watch faces until you die, purple-faced from asphyxiation. The Series 5 still reigns king. That's true even if this time around, most of the updates are small tweaks rather than game-changers.
---
If you're still in the market for a tablet and you've concluded that iPad is the only one that matters, the 10.2″ version of the latest model with 32GB of storage is down to $330 at Amazon. You can find the same deal at Best Buy. That's a little light for storage with today's monstrous apps and games, but if you want a big iPad without the big price tag, this is the ticket.
Grab it for the kids, yourself, or anyone else who can find use for an interactive second screen. This deal is available for the Gold, Space Gray, and Silver color variants.
---
If you've decided to continue your studies online in today's world of home-bound productivity, Comcast wants to woo you to Xfinity with a $150 Visa gift card, plus a free six month subscription of Amazon Music (new accounts only) thrown on top.
All you'll need to do is prove you're a student, and you'll get the free money as you select an eligible package and stick with it for at least 90 days. You'll also get a $50 gift card if you bring your own phone to a plan that includes Xfinity Mobile.
The deal is on through July 1, 2020, so get to it.
This article was originally published by Quentyn Kennemer on 3/27/20 and updated by Quentyn Kennemer with new information on 6/17/2020.
---
With a 30,000mAh power bank, why would you ever tether yourself to a wall? AUKEY's model has USB-C (but no Power Delivery, sadly) alongside Qualcomm Quick Charge 3.0 capabilities, and it's down to $45 at Amazon with exclusive promo code ADHZIFOL.
This article was originally published by Quentyn Kennemer on 6/1/2020 and updated by Quentyn Kennemer with new information on 6/17/2020.
---
I tried grabbing a pair of AirPods on sale last January, but they just didn't seem to work for me. I recently decided to give them another shot, and it's been pretty great! They're perfect for catching up on podcasts while you waltz through your chores, or giving you some tunes while you're on your evening walk to get some fresh air. The tricky part is how easily they, and especially the case, can get scuffed up.
A decent decal will give your case some protection from scratches, but you'll want a more solid case if you're looking to keep the original shell in good condition. Nomad's accessories add a nice touch of character to your tech gear, and the company's leather AirPods case will give your case a bit more grip plus a lot more protection. Right now, they're giving Kinja readers $20 off their leather AirPods case, which comes in either a Brown, Black, or Natural finish, bringing them down to just $10. Just use the code KINJA67 at checkout, and your pods will be resting safely in no time.
---
If you're as hopeless as I am when it comes to keeping up with stuff, the TrackR Pixel may be for you, and at $9 for three at SideDeal today, it makes no sense not to snag some today. Stick them on your key chain or in a wallet, or anywhere else you can fit these, which should be a diverse selection given how small they are.
These Bluetooth tags feature two-way ringing, so you can find your stuff by locating it via the smartphone app, or find your smartphone by tapping the button on one of the tags. Did we mention you get free battery replacements? They're available in three distinct color combination:
Aqua | Purple| Pink
Red | White | Blue
Black | White | Gray
Hurry on to SideDeal before they're all claimed.
---
Anker is featured in today's Amazon Gold Box sale, where you can find a pile of charging products up to 40% off, including portable batteries like the 10,000mAh PowerCore Slim with 18W USB-C Power Delivery for $33, a wireless charging stand for just $12, a $36 two-in-one PowerWave+ wireless charging pad for Apple Watch and iPhone users, a 60W USB-C wall charger for $24, and USB-C Lightning cables.starting at just $12. I love the power strip in particular, which delivers three AC outlets on one side and three USB ports on the other for better cable management around your desk. That one is only $45.
Remember, these only last through today.
---
Meet the Echo Dot with Clock. It's just like an Echo Dot, but it has a clock. Problem is, it was more expensive than a regular Dot, and now it's not. With $25 off, you'll save a lot. Add one to your home and meet the immensely helpful Alexa bot.
Sadly for you lot, I'll be here all day.
---
At just over $100 per terabyte, ADATA's 2TB SSD is a pretty good snag today. That's the going price at Newegg for an internal 2.5″ SATA III drive. There's a 2.5mm spacer included in the box for installation help, plus cloning software to move your operating system onto it if you need. This price lasts through Saturday, June 20.
---
Every time I see an iPad deal, I'm reminded of this tweet from Washington Post reporter Gene Park. Also the NY Times article he's referencing, but mostly his tweet. The iPad has supplanted our TVs as the main TV- and movie-watching device of the house. It's an all-in-one distraction, and you can pick up the latest fun-size version for $350 on Amazon. At full price, the iPad mini would cost you $400—an extra 13%—though it's found regularly for $385.
Between its 7.9-inch Retina display, the ageing but still pretty fast A12 Bionic processor, and up to 10 hours of battery life, there's a lot to love about the iPad mini. Even if this version is over a year old, it's still the latest model and it's got plenty of character despite the lack of storage space. If that's a dealbreaker, the 256GB config is on sale for $500, saving you the same $50 as its 64GB twin. Upgrade to Wi-Fi + cellular for on-the-go series binges. The only SKU that doesn't seem to be discounted is the AppleCare+ bundle.
Between its 7.9-inch Retina display, the ageing but still pretty fast A12 Bionic processor, and up to 10 hours of battery life, there's a lot to love about the iPad mini. Even if this version is over a year old, it's still the latest model and it's got plenty of character despite the lack of storage space. If that's a dealbreaker, the 256GB config is on sale for $500, saving you the same $50 as its 64GB twin. Upgrade to Wi-Fi + cellular for on-the-go series binges. The only SKU that doesn't seem to be discounted is the AppleCare+ bundle.
---
If you're looking for a sale on some Beats, boy do I have the deal for you. The Powerbeats Pro headphones are down to $200, which are 20% off the original list price. You'll be able to wirelessly connect these bad boys to any device and you'll be able to get up to nine hours of listening time, and can control the volume and audio controls from the actual headphones. I don't know how long this deal will last, so grab em' before they're gone!
---
Do you have tons of devices you've got to charge? Well, the RAVPower Wireless Charging Pad is here to help. Down to $10 with promo code KINJA0609, you can give power to iPhones and Androids alike. You can't charge your AirPods, however, so keep that in mind. You'll also get a wall adapter so you can easily plug the adapter in and go! Grab it before it's gone!
---
Right now at Verizon, you can score a pair of Beats Studio 3 wireless headphones for just $200, a $150 discount over MSRP. These will turn heads with a bold black design with red accents.
With new drivers and a much more balanced sound signature, these headphones helped reverse years of disappointment in many audio buffs who had written the brand off forever. They'll last 22 hours on a single charge. They also feature adaptive noise canceling, which monitors the ambiance on the fly to make real-time adjustments in any environment.
---
Listen to some tunes while you go on your daily run with Anker's $28 Liberty Soundcore Neo headphones. They're 30% off their original list price and has sound isolation technology so you won't be disturbed when you're trying to concentrate. It can easily connect to any of your devices with Bluetooth and has life-changing bass because a good boom boom is important. Grab em' before they're gone.
---
If your dad is anything like mine, the biggest challenge in getting him a gift is pulling out a response more concrete than "I dunno I don't really need anything." It's a humble response, but it also makes celebrating their day a bit more of a head-scratcher than any of us would like. If you know what your dad wants, great! For kiddos with less forthcoming parents will be happy to know there's no shortage of sales going on that will help pick out that perfect gift. Right now, Nomad has some pretty solid discounts on their tech accessories when you use the promo code DADSNGRADS at checkout, and maybe there's even something you can sneak in for yourself.
For Nomad's part, you can get some nice gear to upgrade his tech ensemble, as long as he's got a few Apple devices laying around. Maybe he needs a place to toss his phone before hitting the hay, in which case you could get him Nomad's Base Station Stand, which would be right at home on his nightstand or on his desk so he can take a peek at his notifications while he's working.
For the dads who struggle with picking out a stylish watch, the company's Active Leather strap looks great, and it's durable enough to withstand the tribulations of nasty weather.
Maybe your dad's one of the clumsy folk who can't seem to get through the day without his phone fumbling to the floor, or he just likes to carry around his phone in style. Nomad's Rugged Leather case (available for the iPhone 11 and Pro Max, and iPhone 11 Pro) gives a nice bit of elegance to the iPhone while adding a bit of extra grip to a phone that seems designed to slip through your hands.
---
Snapping photos of big family moments isn't just great for scrolling back through when you're feeling nostalgic, it also makes for some great shots you can turn into prints as gifts later on. Your phone alone can usually do the trick, but having a bit of extra gear doesn't hurt. Moment has plenty of options, from lenses and filters you can snap over your phone's camera, to battery cases that'll let you snap even more photos before running out of juice. And whether you're looking to get your dad something nice to round out his photography rig, or just wanna get something nice for yourself, Moment is offering up to 50% off its accessories, plus some discounts on gear from companies like DJI and Freefly.
If you just wanna get your dad a couple lenses so his weekly photo drop from home looks a little crisper, there's a wide 18mm lens, a 58mm telephoto lens, and even a 14mm fisheye lens if he likes to get a little funky with his shots. To use those lenses, though, he'll need a case to go with it. Whether he's got an iPhone or a Pixel, there's an option available, and they're on sale too for $10 off. There's also a Galaxy case that's $20 off, if you're looking to give this to your Samsung-toting pal.
You can also check out sales on a drone or some equipment from DJI, or grab one of the gimbals up for sale. There's lots to choose from, though, so take a look around and see what might give your dad something to smile about come Father's Day.
If you spend $150 or more, you can use code DAD15 to knock an additional $15 off your order. And if you drop $250 or more, put in code DAD30 instead to take $30 off the total.
---
Adding a monitor to your desk has a few nice benefits. You'll be giving yourself more space to spread your windows out, images and text will be a bit more crisp, and with the right arrangement you'll have a more ergonomic setup. An ultrawide monitor just accentuates some of those perks by giving you even more screen real estate without having to add a second monitor to the mix. LG's 34BK650-W 34″ Ultrawide Monitor has a 2560 x 1080 resolution, which isn't the highest you can get in an ultrawide monitor, but it should be plenty for getting through your day's work. Plus, it's down from $400 to $320, so you can save yourself a bit of cash while you get some more space for work and play.
Earlier this month, Sony kicked off its Days of Play sale, highlighting games and subscriptions at a number of retailers including Amazon and Best Buy. A 12-month membership to PlayStation Plus, for instance, will set you back just $42 while you can catch up on The Last of Us: Remastered on PS4 for $10—at least until tomorrow, when the sale ends. Through the end of the day today, you can finally swing through the streets of Manhattan as Peter Parker in Marvel's Spider-Man: GotY Edition for half off and rock a $70 PlayStation Gold 7.1 surround sound headset doing it.
Bear in mind, not everything's in stock, especially given Amazon's notorious shipping delays and stock shortages of late. So if you can't find what you're looking for over there, peep the Best Buy store page for a whole new world of discount wonders.
PlayStation Plus 12-Month Membership Code | $42 |

Amazon

,

Best Buy

PlayStation Now 12-Month Membership Code | $42 |

Amazon

,

Best Buy

The Last of Us: Remastered | $10 |

Amazon

,

Best Buy

Uncharted: The Nathan Drake Collection | $10 |

Amazon

,

Best Buy

Until Dawn | $10 |

Amazon

,

Best Buy

Nioh | $10 |

Amazon

,

Best Buy

God of War | $10 |

Amazon

,

Best Buy

Horizon Zero Dawn Complete Edition | $10 |

Amazon

,

Best Buy

Gran Turismo Sport | $10 |

Amazon

Farpoint | $10 |

Amazon

,

Best Buy

Dark Souls Remastered | $16 |

Best Buy

Marvel's Spider-Man: GotY Edition | $20 |

Amazon

,

Best Buy

Days Gone | $20 |

Amazon

,

Best Buy

MediEvil | $20 |

Amazon

,

Best Buy

Blood & Truth | $20 |

Amazon

,

Best Buy

Death Stranding | $30 |

Amazon

,

Best Buy

Dreams | $30 |

Amazon

,

Best Buy

Nioh 2 | 40 |

Amazon

,

Best Buy

PlayStation Gold Wireless 7.1 Headset | $70 |

Best Buy
---
I can't be the only one who's wanted to take a swig from those imulsion pools. Gears 5 on Xbox One is really good, and if you haven't had a chance to play it yet, there's no excuse not to with the game dropping to $10 at Amazon. You'll get a fun campaign, diverse multiplayer modes, and some fun cooperative horde action.
Of course, all of that pales in comparison to the fact that Dave Freakin' Batista is in the game. You haven't truly killed a locust until you've Batista Bombed his face off.
---
If you haven't already followed Geralt of Rivia through hell and back in The Witcher 3: Wild Hunt, let's fix that. It's only $17 to get the game with ALL the DLC on both Xbox One and PlayStation 4. Meanwhile, the Nintendo Switch version is down to $40, which isn't nearly as nice, but it still represents the lowest we've seen for the handheld hybrid.
These are the lowest prices we've seen for the complete edition on any platform, so don't hesitate to add this to your collection if you've been itching to check out the countryside.
---
If you're an Animal Crossing fan, you've probably been looking forward to the Animal Crossing: New Horizons Official Companion Guide. This book from Future Press is practically an encyclopedia for the game, but it was delayed for a while (no doubt because of COVID), and then eventually sold out. However, the guide has been back in stock for at least a month, and it's already discounted to $20!
Unfortunately, it's not expected to ship until mid-late July at the earliest, but if you're patient, order now and use that extra $10 in your pocket to stock up on fresh turnips.
This article was originally published by Elizabeth Henges on 5/17/2020 and updated by Quentyn Kennemer with new information on 6/17/2020.
---
If you've been dying to kick Vegeta's ass as much as I want to, today is a pretty good day to pick up Dragon Ball FighterZ. The physical copy on Nintendo Switch is only $20, a rarity for this 2D brawler.
FighterZ has emerged as a top fighting game in the pro scene after years of the franchise suffering from rushed cash grabs. There are actual skill mechanics now, though newbies can still button mash their way to a win every now and then. Get started now, and you might be able to beat Sonic Fox at next year's EVO (if he decides not to go Super Saiyan on you with the snap of a finger).
---
Resident Evil VIII was announced! That's cool! But if you're behind on the series, you might be just a bit worried about catching up. If you like getting scares on the go, though, you're in luck. But the Resident Evil Origins Collection and the Resident Evil Triple Pack are on sale on Amazon, and you can get both for a total of $77.
The Origins Collection includes Resident Evil 0 and the original game, while the Triple Pack includes Resident Evil 4, 5, and 6. Of course, this isn't the entire series—Resident Evil 7, along with the recent remakes of Resident Evil 2 and Resident Evil 3, are not available on the Switch. But, five out of the eight mainline games is a pretty good start!
---
If the phrase "finish him" brings you immaculate joy you should probably go ahead and purchase the just-released Mortal Kombat 11: Aftermath Kollection. It's a whole $10 off the original list price, bring the cost down to $50 and I'm sure it'll last for a short time. You'll have access to an Eternal Klash Skinpack that includes MK9 Scorpion, and MK: Deception Sub Zero. Like bruh. Hop on this dope deal before it's gone.
---
If you're familiar with Neil Gaiman's series The Sandman then you know Death. She's the escort of newly deceased souls leading them to the afterlife. She has such a haunting and beautiful look and this retro nurse version is no different, all confident and mysterious. Today she's on 22% off her original price.
Every statue in this Bombshells series is absolutely gorgeous and if you're a mega-fan of this character and/or a Gaimen fan this is certainly a worthy piece to add to your collection. They only made 5,000 and this is one of the lowest prices I've seen on it since it's release a year ago. Designed by Ant Lucia and sculpted by Tim Miller she stands a little over twelve inches tall and is cast in polyresin. No word on how long this price will hold but if you want her I'd move quick.
Free shipping for Prime members.
Are your counters a hot mess? What about your pantry? You can easily organize your kitchen easily with the help of these food storage containers. They're $31 for a pack of seven, and they're about 40% off the original list price, which means you save about $20! They're clear containers so you can actually see what is in them, as well as labels just in case you look and you still don't recognize what the hell you're looking at.
---
Stemless Wine Glasses | $14 | Amazon
If you're in the market for wine glasses to enjoy a glass of white while catching up on your shows, I have the perfect set. For $14, you can get your hands on four stemless wine glasses. They're dishwasher-safe and don't have a stem! Which means there's less of a chance for you to break them. Grab them before they're gone.
---
For today only, Amazon has Snuggle-Pedic pillows and mattress discounted by up to 20%. They're memory foam with breathable covers made of bamboo and polyester. You can get the mattress in sizes from Twin all the way to California King, and the savings right now are massive. The latter is down to $559 after a $190 discount, while a queen is $420 off its list price for a $480 total. As for the pillows, the standard size is $10 off, down to $40. You'll also find the toddler version for $24 and a full body model down to $56.
Head here to see all your options for achieving better sleep, which—believe you me—is one of life's most effective elixirs.
---
Air fryers are all the rage right now, and it isn't hard to see why. With a good one, you can make fries, steak, fish, pork, and poultry including—you guessed it—chickie nuggs. As I divulged in my tell-all fridge exposé earlier this year, y'all know how much I love those golden-brown breaded chicken breast chunks, and I love 'em even more when I don't have to pre-heat the oven just to eat a couple dozen in one sitting.
While it didn't make the cut in our reader-sourced roundup of the best air fryers, the NuWave 36011 3-quart fryer is marked down 40% on Amazon. It's got a digital LED for controlling the temperature, adjustable in 5-degree increments ranging from 100-400 degrees Fahrenheit.
You can also customize the wattage output, toggling between 600, 900, and 1,300 watts, and select custom presets like frozen fries, fish, and nuggets depending on your meal.
---
When you were spending most of your day at the office, you probably didn't have much time at the end of the day to notice all that dust piling up around your apartment. With most of us staying at home, there's been plenty of time to sweat the small stuff when it comes to cleaning. Still, dusting is one of the least enjoyable parts of cleaning, so why not ease up the process? A good air purifier will do a good job of collecting a decent chunk of the dust you'd otherwise spend your Saturdays wiping off. Dyson's TP02 air purifier isn't a bad option, and it's down $70 to $230 for a refurbished model on Newegg. Don't get your hopes up, you'll still have to clean up some dust, but it won't be as painstaking a process once the Dyson's all set up.
---
Easy installation is what you're looking for when you have to be your own handyman. You've probably picked up some new fix-it skills during lockdown but still might be a little leary of the more professional things say like electricity. Well, you can definitely handle the installation of this solar-powered security floodlight now 42% off at SideDeal.
This floodlight has twenty-two ultra-bright white LEDs so it really brightens driveways and yards all without getting tangled in electrical wiring. The solar panels store power so the lights can be operated for a sixty-second period up to one hundred and fifty times. They are obviously weatherproof and durable for all conditions. They're easy to adjust and angle to the exact spot you'd like to illuminate. And at just $29 grabbing two for your outdoor space is still a great deal.
If you've read a few of our pieces on SideDeal before and you like what you've seen they offer a $5 monthly fee to get free shipping on all of your orders no matter how many. Otherwise, it's a flat rate of $8.
---
I don't know about you, but I've been doing a bunch more cooking during quarantine, and I will say, cutting boards are a necessity. These Dexas Grip Mats are only $8, which are basically half off the original list price. They come in a pack of four, and you're supposed to use different colors to avoid cross-contamination from meats to vegetables. The cutting boards have non-slip grips to keep them from sliding while you're chopping, which means you will have less of a chance to hurt yourself while prepping your meal. They're also dishwasher-safe! Grab em' before they're gone.
---
If you're still picking up new quarantine hobbies and you're done with bread and cross stich let's try candles. There are a lot of DIY kits on Etsy to make wonderful little luminous crafts but these sushi ones from CraftyMaker have a five-star rating and a dashi of creativity.
This beeswax kit is kitschy enough to warm the heart of any unagi lover. Looking at the set I'm just getting a lot of Popin' Cookin' vibes and you get enough supplies to make six roll candles. You can recreate salmon, maki, tobiko, and even inside out rolls. Little faux dollops of ginger and wasabi come as a decoration option. Each candle will burn about thirty minutes and has a natural clean scent. Saké to me baby.
Ships for free from Canada.
---
Have you ever been recommended at a really great coffee brand only to find out they only sell whole beans? I've definitely given up on tasty java because I only have a standard coffee maker. But give up no more. Hamilton Beach has this grinder on sale for just $17, that's $13 off the original price.
Hamilton Beach makes great kitchen appliances, of which I have had many. What's cool about this one is that it's a tad quieter than others on the market. So if you're an early grinder you're less likely to disturb those who aren't, pets included. You can grind up to nine tablespoons of beans (makes about twelve cups) at a time and it's easy to clean after. There is just an on/off button and it's compact enough to fit into even the snuggest of kitchens. This grinder is also one of Amazon's best sellers and top-rated items.
Free shipping for Prime members.
---
Wish your car had a dash cam? you don't have to initiate another auto loan for the privilege. Just buy AUKEY's dual dash camera instead, which gives you a 1080p view of both your front and rear sides, complete with infrared kits for night vision. Usually $150, you can chop 30% off your order with exclusive coupon code 88ITRDYN, your final total being $105.
Beyond the live feed, the dash cam will automatically record auto incidents thanks to an integrated accelerometer, as well as anytime someone comes within view of the cameras, giving you proof and protection in cases of theft, accidents, and police encounters.
This article was originally published by Quentyn Kennemer on 4/21/2020 and updated by Quentyn Kennemer with new information on 6/15/2020.
---
Sure, quarantining has given lots of us plenty of time to keep things neat and tidy, but that hasn't made it any more enjoyable. So, if you can afford the luxury, a robovac is a nice way to keep gunk off your floors without having to lose your Sunday to chores. They're not all super pricey, though. Right now, a refurbished model of Eufy's RoboVac 15C, typically $200, is down to $120 on Newegg. It might not suit your needs if you have super high carpet, but it should work well for most hardwood and carpet surfaces, at least to get the big stuff.
If your dad has reversed his indoctrination from Boomer School and doesn't see evil in cannabis, Sunday Scaries has the perfect CBD father's day bundle. Before you buy, promise me something: you'll scream YOLO at the top of your lungs at 4A.M before throwing one of those three energy shots right into his beer belly.
After all, dad's going to be cooking on his own day (because he's the BBQ master and he has no choice), and that'll be the perfect way to test their effectiveness. Also in the bundle are relaxing gummies and brain focus oils to enhance his morning routine, which is perfect for counteracting the Bart Simpson treatment you're about to get.
Normally $123, you can get all five of these for just $59, and shipping is free if your order goes in by June 20.
This deal was originally published by Quentyn Kennemer on 6/12/2020 and updated by Gabe Carey with new information on 6/17/2020.
---
Stuart Weitzman is one of those designers you wait to have a sale like this. The initial reaction is to be surprised by the cost even with the prices slashed 50%. So yes, expensive but these are from the same designer Beyoncé loves. And is Beyoncé ever wrong?
The classic Gabby flat is on sale for 40%-50% off depending on what color you choose and flats go with everything. Lots of comfy sandals for summer are deeply discounted. Are you in need of a new crossbody or shoulder bag? There are few for half off in this sale and this Collette one will blend in nicely with anything you already own.
This sale runs for the rest of June and new styles will be added tomorrow. There's free shipping on all orders.
---
At Toy Faire this year I made a beeline for the Calico Critters display because they are usually super elaborate and beautifully displayed. Millenials of a certain age definitely remember these adorable flocked felines and friends. I actually know a ton of people that still collect them. Today on Amazon several sets are on sale for only $10, which is more than half off.
This is a really wonderful sale to introduce a new generation to literally the cutest toys I've ever seen. The idea is to build your own village with the mix and match sets. There are some pretty elaborate cozy cottage setups out there too. Every detail of each of these characters is meticulously designed which you have to appreciate. The attention to every aspect of these characters' world is truly mesmerizing. But their unique selling point outside of being unbelievably adorable is their flocked material making each feel like velvet. So grab a few sets and relive your childhood. I might need the Kangaroo family for my bookshelf.
This sale runs the rest of the day and Prime members get free shipping.
---
Watches are one of those accessories that can instantly elevate a look or tie one together. SideDeal has this beautiful Aviator 3916 to soar you into the danger zone. It's marked down 83% and is currently $69. Nice.
It comes in three styles: Silver-Black, Silver-Brown, or Black-Green. It's got luminous hands and index markers so it's easy to spot the time in low light. The strap is real leather and the caseback (41mm) is stainless steel. It's water-resistant if you're the adventurous athletic kind. Which this Aviator definitely gives off the vibes of a too cool outdoorsy type, especially in the black/green color.
If you've read a few of our pieces on SideDeal before and you like what you've seen they offer a $5 monthly fee to get free shipping on all of your orders no matter how many. Otherwise, it's a flat rate of $8.
---
Skin is such a finicky thing for some of us. I had terrible blackheads as a teen that thankfully was just a phase but for some, they just aren't that lucky. If it seems like no matter what you do your pesky pores remain clogged maybe it's time to bring in some backup. The Blackhead Remover Vacuum from Voyor just might be the answer and it's one sale for the next few hours,
Reading through the reviews you'll see lots of happy users. Funny how some say it wasn't super efficient for blackheads but almost all said it still cleaned their skin especially of oil, grime, and whiteheads. But every single one did suggest steaming your face first and most said they really saw results after multiple uses. This might be because it actually stimulates blood flow and brings back some natural elasticity in your skin and reduces fine lines.
There are three strength levels and six interchanged heads depending on your needs. The microcrystalline one is excellent for exfoliating which is great for anyone. It's rechargeable and lightweight so no batteries required.
This is a lightning deal so it will only run for five more hours or until it runs out. Free shipping for Prime members.
---
Ok beauty girls, it's time to get excited. For today ONLY, Tarte is having a sale on their custom beauty kits, and they are only $63! Basically, you'll be able to choose between three foundations, three kinds of face makeup (a choice between blush, bronzer, or concealer), eye makeup (eyeshadow palette, brow gel, or chome paint), mascara, lipstick or lipgloss, and a makeup brush.
The kit usually retails at a whopping $200, so I'd stock up and grab this before it's gone. You know you want to. Not to mention, most of Tarte's makeup is vegan and cruelty-free, so you don't have to feel bad for animals while you take your selfies. And you get FREE SHIPPING. Yes, girl, FREE-99! Grab it before it's gone!
---
If you're looking for a new, high-tech way to get your teeth clean and keep them clean, consider the Colgate E1 Smart Electric Toothbrush. It's 25% off with the exclusive code KINJA25, which brings the price down to $75. The toothbrush is registered into an app that gives you 3D mouth mapping as well as real-time coaching to get all the plaque off your teeth every morning. Not to mention, information about each time you brush automatically gets registered through Bluetooth and can be shared in the Apple Health app, so you'll know if you skipped a day (ew). Grab it and ger brushing!
---
For a short time, you can get a whopping 20% discount on the Satisfyer Pro 2. It's an oral sex simulator that will suck the shit out of your clitoris and has so many modes of pleasure. One of our writers, Jolie Kerr, says it best:
Satisfyer Pro 2 delivers a very specific experience; basically, it's designed to stimulate the clit and nothing else, although you can certainly explore other areas with it. It is not, however, an insertable toy and should only be used externally.While it's not an especially versatile toy, and doesn't strike me as a great candidate for couples play, it is very, very good at what it does. Basically, if oral sex is the way you like to get off, Satisfyer Pro 2 will make you very, very happy.
The Satisfyer is only $47 with the promo code INVENTORY so make sure you grab this and get off before it's gone!
---
Mountains are like dads, they're hill areas. I apologize for this dad joke, it's not a winner but your father probably is. Time to honor him and all his attempts at making you giggle over the years with the Best Dad Jokes pin.
If you've got a pop with a pep for pranks pin him with prestige. If your father deserves a blue ribbon in buffoonery dub him a winner. This little but well-meaning pin from VivianMetheny gives dear old dad all the praise for puns. But hey, it's his day so laugh along and treat a one of a kind jokester with a one of a kind gift.
Ships for $4 from Texas.
---
Keds are both timeless and comfy. I've personally worn through two pairs I got in one of these sales last year. Normally the shoes are $60 a pop so if you do grab two pairs it's a great two for one deal. This sale is while supplies last so what here is here and then gone forever so grab these $25 kicks today.
There are traditional lace-ups that are discounted as well as a few sandals for summer. I'm also a big fan of the slip-on shoes which there are quite a few left. There are even a pair of tie-dye sneakers to stay on trend for 2020.
The sale runs until July 1 and there's free shipping on all orders.
---
At MorningSave today, you can buy three two-layer face masks for $19 in various colors. I'm partial to the black and red ones. These are non-medical, so there's absolutely no guarantee on their effectiveness against viral toxins. But if you just need a cloth mask to go about your day, these look good, they're made of 100% cotton, and they're machine washable.
---
Our hibernation lasted well into Spring this year, so things may get a little wild as folks make up for lost time with more risky Summer fun than usual. One of your kids is almost guaranteed to come home with some sort of scrape, scratch, or cut. Instead of taking them to the emergency room, take care of it at home with a 298-piece first aid kit. It has bandages, antibiotic ointments, burn gels, and other remedies that are useful in a pinch, and it's only $15 to stash one inside the medicine cabinet.
---
There are 680 products discounted up to 75% now in SkinStore's massive summer sale. The brands and items run vast so you're sure to find just what you need for fun in the sun or to carry you into fall.
If you were one of the many to dye your hair in quarantine and are still doing so without professional assistance a good color shampoo should be in your routine. This Color Extend Magnetics Shampoo from Redken ($17) gives your locks a little more longevity and you'll get 50% off. Anytime you see Sunday Riley on sale take note. If you suffer from oily/combo skin like I do this Mattifying Melting Water-Gel Toner ($44) is a treasure and it's $10 off. The cleansing fluid balances your skin out while cutting grime and oil in your pores. Kevyn Aucoin's Molten Lip Gloss ($18) is in my rotation of favorites. I usually put on the cyber opal (clear/white) before I head out on a run just to give my lips a little moisture and protection. There are plenty of sunscreens, shaving creams, and lotions in this sale too, just give yourself time to poke around for what you need.
Free shipping on orders over $49.
Feeling bored? Visit Amazon's three-fer page on entertainment, where you can buy two select video games, movies, books, or music downloads.to get a third for free. Well, technically, it's anything in this massive list of things, including a Baby Yoda Funko doll that seems so out of place among the field, but now you have no choice but to make that your freebie.
---
Steelbook series when done right are actual works of art and coveted items for super fans. This one Marvel did with Best Buy for The Avengers collection is no different. It's currently $100 saving 33% off the original price.
This collection includes all of the Avengers films: Avengers, Avengers: Age of Ultron, Avengers: Infinity War, and Avengers: Endgame. Watch all of them (or skip Ultron) and relive all your favorite moments. Cap picking up Mjolnir, Bucky picking up Rocket, Black Widow's hair evolution, all of it's here. It's actually quite a journey to go from the first film which looks like a step above a made for tv movie to the cinematic masterpiece that Endgame is. These 4K Ultra HD films come with a special personal letter, Marvel Studios President Kevin Feige. Each steelbook is designed especially for each film and comes with a Movies Anywhere digital code.
Best Buy is offering free shipping on this item.
---
The Sonic the Hedgehog movie is fun. Is it a masterpiece? No. But some of us can use a fun distraction right now. On Amazon, you can grab the 4k + Blu-Ray version of the movie for $25 , or the Blu-Ray+DVD version for $20. It's a pretty good deal, and it's a fun movie for kids and adults. Go ahead and grab a copy before it speeds away!
Storage
Power

Audio
Home Theater

Computers & Accessories

PC Parts
Mobile Devices
Photography
Peripherals
PC
PlayStation 4

Xbox One

Nintendo
Toys & Board Games

Home Goods

Smart Home

Kitchen
Tools & Auto
Apparel

Beauty & Grooming
Camping & Outdoors
Fitness
Movies & TV
Books & Comics
Gift Cards
Take it from someone who is absolutely useless in the kitchen: a good meat thermometer is a worthy investment, and ThermoWorks has come through time and again with its reliable temp-reading products. The company's Thermapen is all the way up to Mk 4 now, but honestly, they all do really similar things with really similar performance, so why not save a few bucks and go for the classic Thermapen instead? It's 15% off today ($67) in any color you want.
This article was originally published by Quentyn Kennemer on 5/26/2020 and updated by Quentyn Kennemer with new information on 6/12/2020.
---
If you're cooking more often, you probably have a bunch more leftovers. For $20, you can get 21 Rubbermaid food containers with the matching lids in a bunch of different sizes. They are microwave and dishwasher-safe, and have a built-in vent so your sauce doesn't splatter when you heat it up. Grab these before they are gone.
---
You know what you need in your life? A hammock. A nice, comfortable way to rest outside. Well, if you spend $150 or more at Coalatree, you'll get a hammock for the low low price of free. Pretty nice deal!
Coalatree is a company with eco-minded items, so you can get clothes and other outdoor accessories that are made with the Earth's health in mind. Take the Kachula Blanket. It's made with 100% recycled materials, which is wonderful. It's an extremely versatile blanket, too, that can easily be converted into a travel pillow or poncho. And it's water-proof!
Anyway, it's really easy to shop around Coalatree and hit that $150 threshold, so take a look and get some cool stuff.
---
So maybe you bought that shoulder massager from last week. It's pretty versatile, but there's one thing that you can't massage well with it—your feet. Your feet take quite the beating everyday too, carrying you around from place to place, so you should really treat them (and yourself) with this fancy foot massager.
This massager from Marnur, which doesn't require water, uses compression, a roller, and heat to work the tension and knots out of your poor, aching feet. It also shuts off automatically after 15 minutes, so you can't hurt your feet by massaging for too long.
So, you want to detense? Use the code EW69A7UU at checkout to get this for only $90.
---
It's the perfect time to take a hike. But it's really not a good idea to go hiking without proper footwear, as blistered are just downright awful. Thankfully, Keen is having a sale on their waterproof boots for Father's Day! These puppies are on sale for just $105, no code needed.
These aren't the only pair of shoes Keen has on sale either, as they're also giving 25% Off select styles. So if you need some sneakers or sandals instead, give Keen a look and you'll be sure to get something that's rugged and quality. This sale lasts until the 22nd!
---
Summer is coming, and it's coming fast. It's already getting hot out, and you might be rummaging through your closet and realizing your wardrobe is lacking. This week, JACHS NY has you covered with dock shorts starting at $26 if you use the code DKS at checkout.
The price depends on what kind of shorts you get! Solid colored docks shorts are $26, while the printed ones are $29. I personally prefer solid colored bottoms as they're easier to match, but it all depends on your personal style!
---
Who doesn't love reusable freezer bags? You can get three two gallon bags for a low $14, which is 10% off the original list price of $16. You can store pasta, meats, and veggies in these bags or whatever you want, really. It's even leak and moisture-proof, which means you can finally go to the local Costco's or BJs to stock up on food to last you weeks. Exciting!
---
If you've been in the market for a cute little camera for summer, Urban Outfitters has got you covered. For $10 off the original list price, you can get a Fujifilm Instax Digital Camera. It's $150 and can connect to your phone through Bluetooth so you can edit the photos to then print out or even save on your computer to place in bigger frames with you have the chance. You can even add sound to digital photos, which means your Instagram? POPPING ALL SUMMER. Even while we're socially distancing. Get it before it's gone.